Network Administration from ASAA TECHNOLOGY
There is a plenty of server solutions, and only a professional is able to choose the right server that corresponds to your needs in memory capacity, processing speed and power alongside with budget requirements. Asaa Technology is an experienced server provider in UAE that offers highly efficient server solutions for small business and big companies in numerous commercial areas. We join your business with innovative IT-technologies that helps to speed up data exchange processes, secure business operation from numerous breakages and attacks from the outside and provide smooth data exchange between internal and external nodes.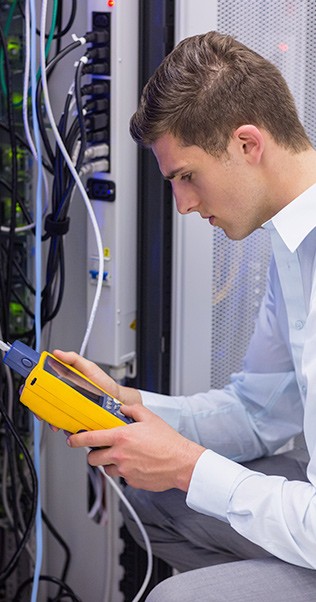 Choosing a Server Solution
Depending on the needs of your business, Asaa Technology specialists can advise different types of server to optimize the expenses and provide all required resources for your network operation, website maintenance and other purposes. This way you will be able to choose from private and shared servers, virtual and physical. No matter what solution you choose, Asaa Technology engineers will help to setup its functioning and will provide further technical support for maintenance and troubleshooting. We partner with the most reliable and powerful hardware manufacturers and server providers, offering guarantees of high-quality server and network services to our clients. Such serious approach brings us confidence in the quality of end result.
Whether you need to host your company website or require a powerful secured data processing network,
Asaa Technology features a right solution for your needs.
Stop worrying about maintaining your network.
SERVER SETUPS AND UPGRADES
Replace or upgrade your current server to get the most out of available server technology today.
FIREWALL AND NETWORK SECURITY
Use the right firewall hardware and security practices to keep your data and network safe from intrusion and network viruses.
SERVER AND NETWORK MONITORING & MAINTENANCE
Protect your investment and maximize uptime with our monitoring and maintenance packages.
WINDOWS, MAC, AND CLOUD SERVERS
We support Windows, Mac, and cloud-based servers and file services. There's almost no server technology we can't help you with.
VPN AND REMOTE ACCESS
Establish fast, secure, reliable access to resources for employees on the go. VPN and remote access solutions include access on mobile devices.
WIFI AND NETWORK SECURITY
Set up your network properly to ensure maximum wifi coverage with minimum security risk.